About Us
Neva Culinary Affairs (NCA), is a family-run cookery school operating in Kidlington, offering cooking classes, menu consultancy and private chef hiring services.
The venue is located in a beautiful backyard in The Moors with several fruit trees and vegetable beds, where students can personally pick some of the seasonal ingredients to use in the classes.
The business is owned by chef, menu consultant and recipe developer Neva Kip, who wanted to create a place, where like-minded people could meet up to learn different cuisines, cook food that some might not have explored before, hence expand their perspectives around culinary.
The majority of the classes are led by Neva Kip.
Neva graduated from Academy of Culinary Arts in Istanbul and trained under Michelin awarded Le Canard Nouveau in Hamburg in 2010. Formerly, she was the chef & owner of Fabrika Zeytinlikoy, a venue in Imbros island, specialized in gastro-tourism.
Classes
We are passionate about encouraging people to try something new and enjoy the pleasures of home cooked food made from carefully chosen fresh ingredients. We keep our class sizes small (up to six people), to allow a relaxed, friendly environment for a hands-on experience and demonstrations.
Vouchers
The ideal present for a food-loving friend or family member. These vouchers can be spent on our classes. You can book vouchers via Facebook, by emailing info@nevaculinary.co.uk or by calling on 07376 417 526.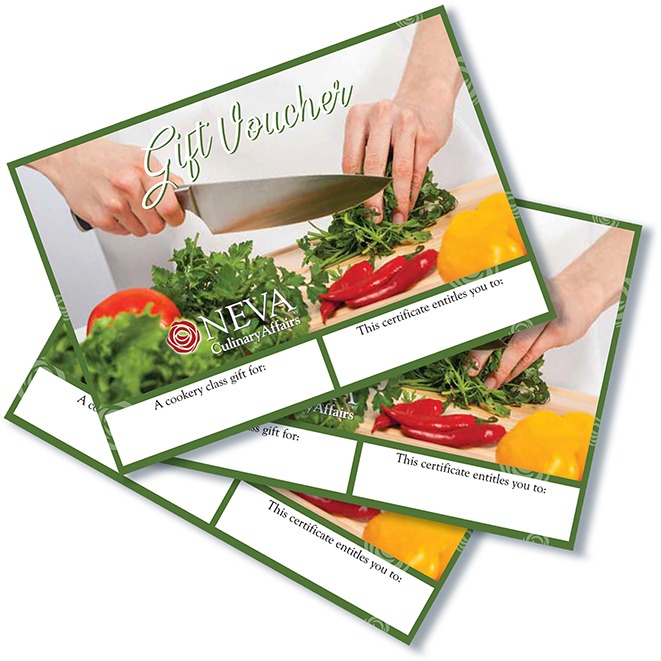 Consultancy
Menu Consultancy and Recipe Development
Since 2014, Neva Kip has been helping and supporting restaurants and cafes to improve their businesses along with consulting the local council and communities to establish culinary training courses. Our recipe development services are tailored to consumers' likes, allowing you to satisfy their cravings. We specialise in Aegean, Mediterranean and Middle Eastern recipes, though we are happy to develop eclectic menus for indie cafes too!